Life Sketch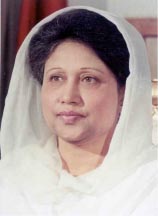 H.E BEGUM KHALEDA ZIA
Hon'ble Prime Minister
Governemnt of the People's Republic of Bangladesh
Begum Khaleda Zia's entry into politics, in early eighties, sudden as it was, made a tremendous impact on the national politics of Bangladesh in no time. Obviously, her entry into politics took place after the assassination of President Ziaur Rahman, her husband, on May 30, 1981.
She came to politics not because she wanted it but due to popular demand as well as repeated persuasions from the workers and leaders of Bangladesh Nationalist Party (BNP), to lead the party at a time the country had just fallen into the hands of an autocratic ruler. Her entry into politics to lead the party, founded by Ziaur Rahman, automatically put her in the role to lead a nationwide mass movement for restoration of democracy in Bangladesh. Nine years of mass movement participated by many political parties ended in December 1990 with the downfall of the autocratic regime of General H.M.Ershad and restoration of democracy in Bangladesh.
Begum Zia was the graceful First Lady, though she never used this title, when Zia was the president of the Republic. By her own admission she never aspired to be in politics. But once in it, people saw a different Begum Zia, determined and uncompromising to pursue the cause of democracy and the masses for which millions rallied round her. To the masses of Bangladesh she is just Khaleda, her first name. Out of love and affection they gave her the title, 'Desh Netri'(Leader of the Country), though she never uses it. Very much a product of the democratic movement, she emerged out of it a charismatic leader.
When she handed over power to a caretaker regime in 1996, an opposition bid to create anarchy and harass her party leaders and workers were foiled by millions of people who rallied round her when she called a public meeting on shortest possible notice. From 1996 to 2001 Begum Zia was the Leader of the opposition. She of course, led the biggest parliamentary opposition, so far, in Bangladesh history, winning 116 of a 300-seat parliament.
Whether in opposition or in power Begum Zia, as a public leader, enjoys immense personal popularity among the people. She was elected from as many as five parliamentary seats in each of the three general elections since 1991.
A programme to bring economic prosperity to ensure two square meals to the common people, known as 'dal bhat', she took in her first term in office earned wide acceptance not only throughout Bangladesh but also in the South Asian region and beyond in many other third world countries.
Unlike many of her contemporaries she is known for her enviable tolerance. Keen to listen more than speak, a trait that distinguishes her from the others.
She demonstrated her uncompromising nature by refusing to go to fake polls under the autocratic regime in 1986 for which it (the autocratic regime) never got the seal of legitimacy.
During her first tenure in office she took a bold initiative to empower women in every nook and corner of the country. She made education up to secondary level free for the girls and introduced incentives for their education.
During her first tenure as the Prime Minister she brought about a major education sector reform making primary education compulsory, free education for girls students, introduced the incentive of stipends for girls students as well as food for education programme. She initiated bold reforms to revitalise the national economy by accelerating production and growth in all economic sectors for poverty alleviation.
Agriculture, being the mainstay of national economy, received the main thrust for achieving food autarky in shortest possible time. With active support from the government people took to raising livestock for dairy and meat.
She led, as the Leader of the opposition, the biggest ever public demonstration, in Bangladesh history, in 1999 to protest oppressive policies of the government of the day. The peaceful demonstration came under repeated attacks from the government. It was not easy. She had to face, during the democratic movement, many odds, repeated imprisonment and harassment by an autocratic regime to which the people were nothing but enemies as were its leaders fighting for democracy.
In the first free and fair general elections in many years, after the fall of the autocratic regime, held in 1991, under a non-partisan interim government and monitored by observers from across the world, her party BNP spearheading a 7-party alliance, was voted to power and she was elected Bangladesh's first woman Prime Minister. Her election as Prime Minister also saw an amendment to the Constitution of the Republic so that Bangladesh could restore parliamentary system of government after a lapse of 16 years.
Her husband, President Zia, had earlier, initiated the process of economic liberalization and restored multi-party democracy, discarding one-party system as well as command model of socialist economy introduced by Sheikh Mujibur Rahman.
It was during her first tenure in office, from 1991 to 1996, that Bangladesh took to total economic liberalization and free market economy. Other big parties of Bangladesh just followed her party in this regard. Begum Zia was elected Prime Minister for the second time after the mid-February elections in 1996.
She was elected Prime Minister, for the third time in October 2001, in a free and fair election conducted by a neutral and non-partisan caretaker government and monitored by observers from all over the world. She led a four-party alliance to win a landslide two-thirds majority in the parliamentary polls.
Ziaur Rahman founded BNP and introduced politics of moderation, accommodation, tolerance and liberalism to build national consensus on various issues to which BNP led by her remains committed. The party also remains committed to building a society of communal harmony. Her government worked hard, as did Zia, in projecting Bangladesh's traditional society of moderation, tolerance and communal harmony.
With active support from the government people took to raising livestock for dairy and meat production. The upshot was that Bangladesh could, in no time, save over Taka 3000 million on import of powdered milk. It was just an example of the positive productive and growth oriented programme adopted by her government.
Her government pursued a dynamic and positive foreign policy promoting good neighbourly relations, bolstering regional cooperation in South Asia, strict adherence to the UN Charter and furthering world peace and amity, peaceful and negotiated settlement of all international disputes, renunciation of use of force in international relations. It was during her tenure that Bangladesh's involvement began to increase rapidly in international peacekeeping efforts under the UN blue helmets.
The share of domestic resources in economic development efforts also grew during her first term in office in sharp contrast to the picture during the previous autocratic regime which even had to borrow from abroad to pay salary of government employees.
Bangladesh enjoyed a positive image in the international community at the time for which very big investment teams, as never before or afterwards, were sent by Japan, Great Britain, to name a few. But it was largely due to negative politics on the streets that they did not or could not yield expected results. Even then industrial investment including from abroad grew substantially during her first term in office. Construction of the Jamuna Bridge, across the mighty river, the biggest construction project so far, could begin during her tenure as foreign aid held up before came during her tenure.
Third among her parent's five children she was born on August 15, 1945. She had her education at Dinajpur Government Girls High School and Surendranath College. She was married to Ziaur Rahman, then a Captain in Pakistan Army in August 1960. Zia made history 11 years later, as a major, proclaiming independence of Bangladesh after Pakistan Army cracked down on unarmed population of the country on the fateful night of March 25, 1971.
Mother of two sons and grandmother of a couple of grand children her hobbies include reading, listening to music and gardening.